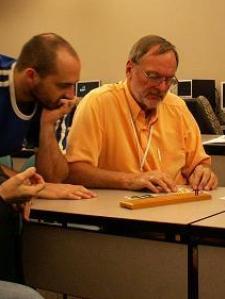 Kenneth S. answered • 07/13/17
Expert Help in Algebra/Trig/(Pre)calculus to Guarantee Success in 2018
THEY CANNOT BOTH BE CORRECT.
Six is divided by two to give 3; this result is then multiplied by (1+2), i.e. 3, giving nine.This is because multiplication is at same level as division, so the left-to-right rule governs the order of operations.
6 ÷ 2(1+2) ... those who wish to compute the product 2(3) first, and to use that intermediate result to divide into 6, thus getting 1, are not correct. In an expression such as 2(1+2), there is multiplication--the symbol does not appear because (a) it would look too much like x, a possible variable, and (b) in algebra, uv = u(v) = u•v ...justaposition of two factors is possible, when they're not both in digital form. (Thus, we have 3a, cd, or e(14.6-0), all of which show two factors that are involved in multiplication. So the multiplication symbol is IMPLIED, and must be properly interpreted per PEMDAS.)
Note: on any non-primitive calculator, 4(5) is multiplication, expressed without pressing the multiply key.