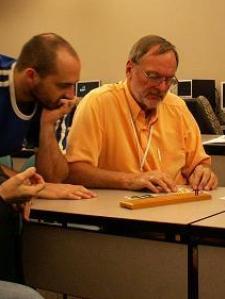 Kenneth S. answered • 02/20/17
Expert Help in Algebra/Trig/(Pre)calculus to Guarantee Success in 2018
Begin by making a sketch of three circles, having radii 0.9, 1.1 & 1.5 cm each.
Draw the three line segments joining centers, two at a time, thus forming a triangle with sides
1.1+1.5 cm, 1.1+0.9 cm, and 1.5+0.9 cm.
Now you know all the three side lengths of this triangle; you may use the Law of Sines to calculate the triangle's angles.
Advice: calculate the largest angle first (it's across from the largest side).