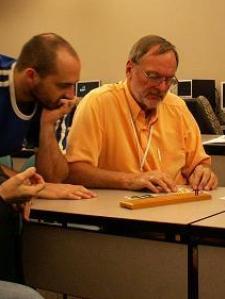 Kenneth S. answered • 01/16/17
Let's cut to the chase: I know this subject & how to teach YOU
To
illustrate
COMPLEX NUMBERS, one can 'plot' them in a coordinate system called the ARGAND PLANE.
There's a horizontal numberline called R (real numberline).
A vertical numberline (Called I) intersects R at right angles, at the 0 value.
Numbers on the horizontal R 'axis' are strictly Reals;
numbers on the vertical I 'axis' are pure imaginary numbers, e.g. i, 5i, -3i and even 0i (a.k.a. Origin).
Any point in the plane having coordinates (a,b) is a complex number, which may be thought of as a+ib.
The Reals are a subset of the Complex numbers