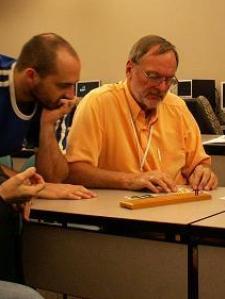 Kenneth S. answered • 07/08/16
Algebra II EXPERT will help you survive & prosper
THIS IS A GOOD PROBLEM--someone voted it thumbs down but that's terrible!
This problem has a variation on the usual length-of-shadow problem in that the shadow is on an incline, so right triangle trigonometry doesn't cut it.
Draw the vertical flagpole TB (points top & bottom, respectively) and place the sun upward and to the left of point T.
Extend a ray of sun that passes through T so that it meets the incline from point B at point X to the right of the flagpole.
Triangle TBX has interior angles 73, 82 & 25 degrees, respectively. The shadow length BX is 20 meters long.
Use Law of Sines:
20/sin73 = TB/sin25 to get shadow length TB = 8.829 m.