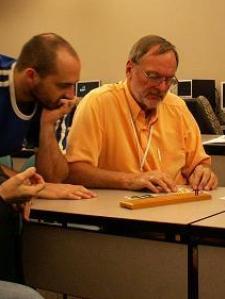 Kenneth S. answered • 04/14/16
Expert Help in Algebra/Trig/(Pre)calculus to Guarantee Success in 2018
What is confusing is that you appear to believe that you'll get a numerical answer for D but you have only supplied numerical values of u, t and k, omitting a value for r.
On the other hand, if the question were phrased "solve for r in terms of the other variables and their values" that could be done. YOU MUST LEARN THIS TYPE OF SKILL. Do not accept your present shortcoming because it will be a severe obstacle!
To solve your formula for r, first subtract ut from both sides. Then divide out k, the coefficient of r. Lastly, take square root; the result is r = √( (D - ut) / k). What you have done is to
undo operations, in the reverse order, to isolate r.