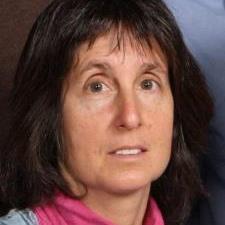 Victoria V. answered • 04/01/16
20+ years teaching Calculus
When my students cannot get the right answer, it is usually because the are forgetting the chain rule. And in this problem, you need the quotient rule, and every time you take the derivative in the quotient rule it will involve the chain rule (on only the ln in this problem).
Here is what I get: [(bottom)*(deriv of top) - (top)*(deriv of bottom)]/(bottom)2
[(2x2)*(1/(3x)*3) - (ln(3x)*(4x)]/(2x2)2
This simplifies to [2x - 4x ln(3x)]/4x4
This further simplifies to [1-2ln(3x)]/2x3
Setting the first derivative = 0 (to find location of mins and/or maxs) get 1 - 2ln(3x) = 0, so 1 = 2ln(3x), so 1/2 = ln(3x), so e1/2=3x, and x=√e/3
There will be a vertical asymptotote at x=0 (x in denom of original problem)
The domain is x>0 (argument of logarithm is always positive as long as working with only real numbers)
Between 0 and √e/3, the first derivative is positive, and after √e/3, the first deriv is negative. This means that there is a maximum at x=√e/3. If you need the point, plug x=√3 back into the original equation and get the maximum at at [√e/3, 9/(4e)] or approximately (0.550, 0.828)
The critical values are the x-values for all mins and maxs AND ALSO all asymptotes and holes.
So the Critical Values are √e/3, and 0.
There is a maximum at √e/3
The value of the maximum is 9/(4e).