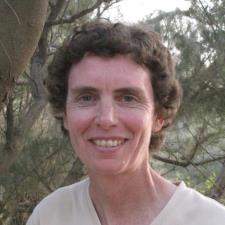 Lois C. answered • 04/27/20
Knowledgeable, experienced tutor specializing in secondary mathematics
A diagram will help so we can picture what we are working with. The length and width of the box can be labeled as "x" and the height can be labeled as "h". The volume is 60, so by the volume formula, we can express this as V= x2 • h or, with the given volume, 60 = x2 h. Since our cost function can only be written in terms of one variable, we need to solve the volume equation for h, so h = 60/x2.
Now let's write the cost function, leaving everything in terms of cents, given the information regarding the cost per side of the box:
C(x) = 15x2 (for the base) + 10x2 ( for the top) + 4(1.5)(x ⋅ 60/x2 ) ( for the 4 sides). Simplifying this expression, we get C(x) = 25x2 + 360/x or C(x) = 25x2 + 360x-1.
Now we are ready to take the derivative: C'(x) = 50x - 360x-2. To find the minimum, we need to find where C'(x) = 0. Since we only have two terms in the expression above, we can move the 360x-2 to the other side, rewrite it as a proportion, and solve for x. So we have 50x = 360/x2. Cross multiplying, we have 50x3 = 360, so x3 = 360/50, and taking cube root of each side, we get x ≈ 1.93 ft.
Checking to make sure this is a minimum, let's check convenient values of x on either side of 1.93 to see that the derivative to the left is negative and the derivative to the right is positive. If we use x = 1 and x = 2 in our C'(x) expression, we have C'(1) = -310 and C'(2) = 10, so this confirms that at x = 1.93, the cost is minimized. So our box will have a base of 1.93 ft x 1.93 ft and a height of 60/(1.93)2 or approximately 16.11 feet.