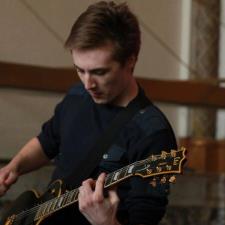 Nicholas C. answered • 06/28/19
Berklee College of Music Grad for Music and ESL Tutoring!
Hi there, I think I can help answer your question.
While a walking bass-line certainly uses chord tones, I would argue that a more prominent characteristic of a walking bass-line would be the chromatic notes or half-step approaches that are used to move to and from the chord tones. Another important characteristic of a walking bass-line would be the rhythm. Usually, a walking bass-line will stick closely to playing only quarter notes or eighth notes while only deviating occasionally. The rhythm of your bass-line is what provides the "walking" part and by using non-chord tones to approach your chord tones the bass is connecting the chords of the song together.
The ratio of non-chord tones to chord tones as well as rhythms used in a walking bass-line is entirely up to you, the composer! I recommend listening to and analyzing your favorites walking bass-lines.
Hope that helps!
-Nic