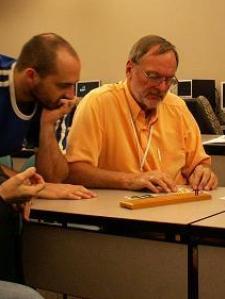 Kenneth S. answered • 11/24/17
Expert Help in Algebra/Trig/(Pre)calculus to Guarantee Success in 2018
From a point at the left of a sheet of paper, draw 6 line segments moving toward the right, at varying angles with respect to the horizontal orientation. These are of equal length, and are labeled, respectively from top to bottom of the diagram with the various stated power of two (1Gb up to 32Gb).
Then from each segment's right endpoints, draw three additional line segments (branches of tree), labeled with the three distinct colors.
Your tree will have, at the right side, a total of 15 'color branches', one set for each of the Gb choices.