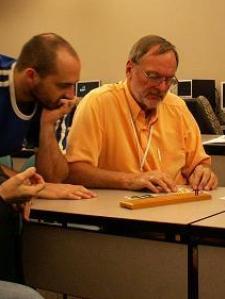 Kenneth S. answered • 11/08/17
Expert Help in Algebra/Trig/(Pre)calculus to Guarantee Success in 2018
I take it that the rotation is 15 rpm (rev./min).
The Circumference is 2(pi)(8 cm) = 16pi cm--that's distance the point travels in one revolution;
15 revolution in one minute means total travel distance is 15•2•pi•8 cm = 240pi cm.
But in 10 seconds, 1/6 of a minute, the point will travel 40pi centimeters, or about 125.66 cm.