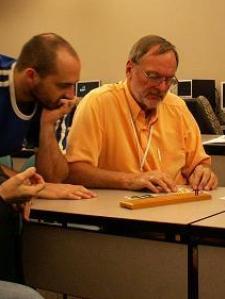 Kenneth S. answered • 05/25/17
Expert Help in Algebra/Trig/(Pre)calculus to Guarantee Success in 2018
What could the pairs be? Any two of the following: A K Q J 10 ...3 2 --so which kind of pairs it will be is 13C2;
Now, within the first pair (there are four possible cards--spades, hearts, diamonds, clubs) the choices can be done in 4C2 = 6 ways.
The same 6 ways applies to whatever second pair is chosen. We have now accounted for the pairings choices. There are 44 other cards that may be finally chosen for the first card of this poker hand.
The # of different such 5-card hands is 13C2•4C2•4C2•44 = 78(62)(44) = 123,552 hands.
Dividing the above by 52C5, we have P(2 pairs in 5-card poker hand) = 0.04754