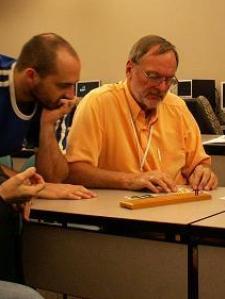 Kenneth S. answered • 04/27/17
Expert Help in Algebra/Trig/(Pre)calculus to Guarantee Success in 2018
I believe that you're intending to deal with the rational algebraic function f(x) = (x+4) / (x+2)
which has Domain all Reals except -2.
This function has an inverse, and its Range is ALL REALS EXCEPT -2 by virtue of the interchange of variables that is used to derive f-1.
I find f-1(x) = -2(x+1) / (x-1) and its domain is all Reals except 1.
THEREFORE THE RANGE OF f IS ALL REALS EXCEPT 1.
You can verify this by attempting to set f(x) = 1; that equation has no solution.