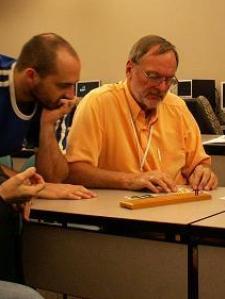 Kenneth S. answered • 05/01/16
Expert Help in Algebra/Trig/(Pre)calculus to Guarantee Success in 2018
INVERSE SINE(0.7) = 0.7753975 RADIANS.
This answer is in the first quadrant.
Angle pi - 0.7753975 = 2.3661952 in Quadrant II also has the same sine value, 0.7.
The interval (3pi,5pi) corresponds to Quadrants III, IV, I and II, in that order; so we need to add 2pi to each of the aforesaid answers (in my first paragraph).
Therefore these (fairly strange) answers, in radians, are about
7.058583 and 8.6493805