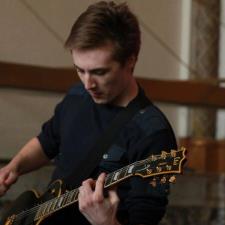 Nicholas C. answered • 06/27/19
Berklee College of Music Grad for Music and ESL Tutoring!
I think I can help answer your question. Lets start by looking at each note in both chords in root position and remembering that "chromatic movement" means moving only by half-steps.
Gbmaj7: Gb Bb Db F
Dbmaj7: Db F Ab C
So, in this case, if we use voice leading to move Gbmaj7 to Dbmaj7/F we can see how far each note moves:
Gb moves up one whole-step to Ab
Bb moves up one whole-step to C
Db stays the same
F stays the same
Because 0 out of 4 notes move chromatically (by half-steps) I would say that this is NOT chromatic movement. Also, Gbmaj7 and Dbmaj7 are both chords that are in the key of Bb minor, therefore all of the notes in both chords are still in our key which means that not every note moved chromatically. With chromatic movement, there are bound to be one or more notes that are not in our scale.
Chords in Bb minor scale: Bb-7 C-7b5 Dbmaj7 Eb-7 F-7 Gbmaj7 Ab7
If you look just at the bass notes, Gb to F, then yes the bass is moving chromatically, but the chord as a whole is not. An example of Gbmaj7 moving chromatically would be Gbmaj7 to Gmaj7
Gbmaj7: Gb Bb Db F
Gmaj7: G B D F#
Each note here moves up one half-step, thus each note moves chromatically resulting in the entire chord moving chromatically as well.
Hope that helps!