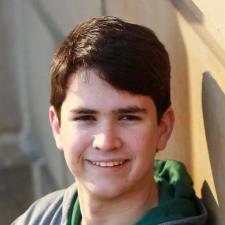 Devin H. answered • 05/04/19
Tutor in various subjects, and general knowledge enthusiast.
I'm assuming, since you have said you require truth tables, that you intend for this problem to involve sentential logic. The first step in this problem is exactly what it says on the tin: symbolize the argument. Since we're dealing in sentential logic, what that means is each clause gets a letter. Something like this:
C: It is the case that humans have free will.
G: God is to blame for the presence of evil.
(Note in both cases that I have phrased the sentences so that negation, should it be required, is an operator and not intrinsic to the sentence itself. This is just a generally good practice in sentential logic.)
To summarize the argument presented, then, looks something like this. (I don't know what logical operators are used in your system; the ones I am using come from R.L. Simpson's Essentials of Symbolic Logic, 3rd edition.)
~C

⊃ G

C
--------------------------------------
Conclusion: ~G
I won't endeavor to set up either truth-table here, in the interest of having you finish the problem on your own. But I will give you a start: there appear to only be two logical sentences (C and G) involved in this question. As a result, there should only be four lines in your direct truth table, setting C as true, true, false, false and then setting G as true, false, true, false. Your indirect truth table should endeavor to set both of your premises as true and the conclusion as false. Remember: an argument is truth-functionally valid as long as no possibility exists where the argument's premises are true and the conclusion is false.