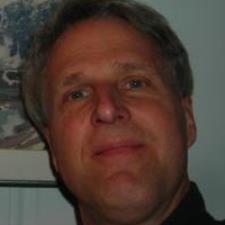 Stanton D. answered • 05/11/20
Tutor to Pique Your Sciences Interest
Hi Prieyankka E.,
I'll work through the balanced net reaction and let you answer the other parts as your particular curriculum interprets "net ionic reaction" and "formula unit equation". For the aluminum, the change is from (0) charge to +3, so that's a loss of 3 e- . For 2H2O -> 2OH- + H2, that's a gain of 2 e- (one for each hydrogen atom being brought from +1 to (0) formal charge). So the least common multiple idea unifies what you have to do to match the electron transfers, and you need 2Al + 6H2O + 2OH- -> 2 Al(OH)4- + 3 H2 as your net redox reaction.
Note a curious thing here: there's plenty of (OH)- around from the NaOH in the chips, but the reaction appears to utiize mostly water instead as the source of all those (OH)-'s . In reality, the NaOH dissolution is being practically used to generate heat to accelerate the reaction, and to provide the hefty (OH)- level that will complex the Al+3 ion efficiently. It doesn't matter in the end where the (OH)- came from, nor could you ever distinguish using isotopic tracers -- the exchange reactions of (OH)- and H+ with water are instantaneously fast. But all you need in the balanced reaction is the 2 (OH)- as hydroxides; they convert the aluminum product from Al(OH)3 , which is insoluble and would block the Al chips from further reaction, into the tetrahydroxy complex, which is soluble and allows the Al chips to completely react.
i'm guessing that your "formula unit" answer would require 2NaOH to appear as a reactant, and the resultant 2Na+ ions to appear as (passive) products.
Also (pardon a bit of humor), since the intent of clearing the drain is to allow passage of fluids, you might say that the reaction "lets the chips flow where they may"?
-- Cheers, -- Mr. d.