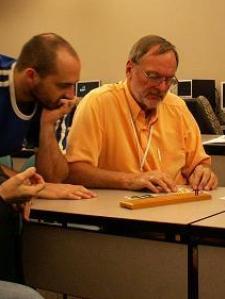 Kenneth S. answered • 12/01/17
Expert Help in Algebra/Trig/(Pre)calculus to Guarantee Success in 2018
It is vital that you learn the concept of the recursion formula. I do not think that you have defined this very well.
The normal way to specify this sequence of terms is to define f1 = 5 [you could call it f(1) if you wish).
The next term is f2 [or f(2)] and the RECURSION RULE IS fn+1 = fn + 6, for n being an integer from 1 and on up.
This one tells you that to get the next TERM, you take the prior term and add 6.
Although your may call this a function, it's not a function of all Real numbers a 'arguments'--the arguments or term # are the positive integers only. The graph of the sequence of f terms is not continuous anywhere.
NOW, the successive terms are 5, 11, 17, 23, etc. (starting with the first one).