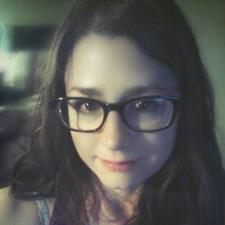 Kendra F. answered • 08/04/17
Patient & Knowledgeable Math & Science Tutor
The differentiable equation is not separable, so use the variable substitution; v = y/x
Switch it around to: y = vx ; substitute vx in for y
Derivative of y = vx gets subbed in for dy/dx
dy/dx = (dv/dx)x + v
dy/dx = (r√(x2+y2) + by) / bx
(dv/dx)x + v = r(x2+(vx)2)1/2 /bx +bvx/bx
(dv/dx)x + v = r(x2+v2x2)1/2/bx + v
(dv/dx)x = rx(v2+1)1/2 /bx
(dv/dx)x = (r/b)(v2+1)1/2
It is now separable
(v2+1)-1/2 dv = (r/b)(1/x) dx
Integrate
∫ (v2+1)-1/2 dv = r/b ∫ 1/x dx
ln|v+(v2+1)1/2| + c = (r/b)ln|x| + c
consolidate constants ; sub in y/x for v
ln|y/x + (y2 + x2)1/2 /x| = (r/b)ln|x| + c
take it to the power of e
y/x + (y2+ x2)1/2 /x = ecx r/b
ec is just another constant; so is r/b which looks to be k in the solution.
multiply both sides by x
y + (y2+ x2)1/2 = C*x*xk
y + (y2 + x2)1/2 = Cx(k+1)
I think there should be a constant multiplied by x(k+1)
but otherwise appears to be correct. I hope this helps.