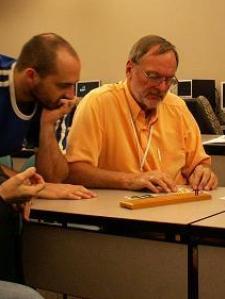 Kenneth S. answered • 07/02/17
Expert Help in Algebra/Trig/(Pre)calculus to Guarantee Success in 2018
e is a very poor choice for this problem, inasmuch as it should be reserved for the base of the natural logarithms.
If tan2θ = sec2θ - 1 (Pythag. identity) = 1-e2 (as given). Therefore tan3θ = (1-e2)3/2.
Also, sec2θ = (2 - e2)
What, then, is csc θ ? tan θ = (sin θ) / (cos θ) so sin θ = tan θ cos θ
so csc θ = 1 / [tan θ cos θ] = sec θ / tan θ = (2-e2)½ / (1-e2)½.
You desire to simplify, in terms of e, this: sec2θ+ tan3θ csc θ...
Your task is to (1) check all of the work, so far, and then (after any necessary correction),
(2) substitute all of the appropriate e-related expressions, and simplify.
I leave this to you because it's a typing/proofreading nightmare, and besides, you need to participate.