Jeffrey D.
asked • 02/23/16
Probabilities!
In a study of bumblebee bats, one of the world's smallest mammals, the weights were normally distributed, with a mean of 2.0 grams and a standard deviation of 0.25 gram. Find the probability that a randomly selected bat from the study weighs
(a) between 1.8 grams and 2.2 grams?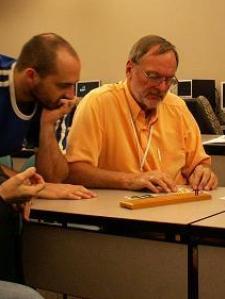 Kenneth S. answered • 02/24/16
Expert Help in Algebra/Trig/(Pre)calculus to Guarantee Success in 2018
0.5763 = normalcdf(1.8,2.2,2,0.25)
Still looking for help? Get the right answer, fast.
OR
Find an Online Tutor Now
Choose an expert and meet online. No packages or subscriptions, pay only for the time you need.
---