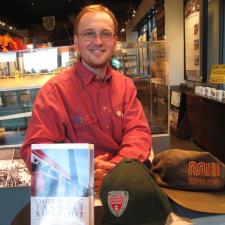 Hello Allison,
You can approach this topic metaphorically from a socioeconomic standpoint based on the subject matter of the quote. As you write, think about what the term 'butts' refers to per se: cigarette butts, poverty-stricken, homeless individuals, even notable changes in people's behavioral mannerisms in general regardless of their demographic. Tie that idea into how the economy of any size government and the decisions that the people controlling it make during their time in power, with the outcomes thereof ultimately effecting citizens both short- and long-term.
As soon as you have some thoughts pertaining to any or all of the above criteria, including notions of your own, begin jotting them down on paper and then once you feel that you have enough material to concoct a solid essay or outlined response to the written prompt, you can begin the editing process for content and writing mechanics thereafter.
I hope this helps. Feel free to let me know if you have any questions or seek my assistance in any other way. Good luck with the writing and brainstorming!