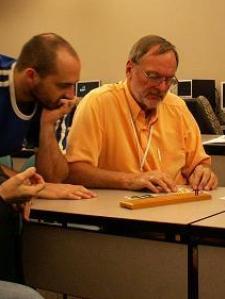 Kenneth S. answered • 03/19/18
Expert Help in Algebra/Trig/(Pre)calculus to Guarantee Success in 2018
P(n,r) is another notation for nPr.
Yes, this is true.
The proof is simply an algebraic expansion, factoring, and verification of an identity.
Expanding, we get n!/ (n-2)! + (n+1)! / (n-1)!
Get a common denominator, (n-1)!; then the numerator becomes
n!(n-1)! + (n+1)! which becomes n!n + (n+1)n! - n!
and then this numerator becomes n!(n + n+1 + 1 - 1) or 2n n!
Finally, then this sum is 2n n! /(n-1)! = 2nn = 2n2