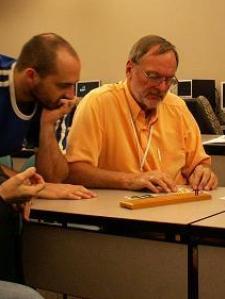 Kenneth S. answered • 01/08/18
Expert Help in Algebra/Trig/(Pre)calculus to Guarantee Success in 2018
y' = 2x -3
At point of tangency P, coordinates are (x, x2-3x).
Computing slope of PQ gives m = (x2-3x-11) / (x-2).
But m also equals y' at P.
Equating y' and the above rational algebraic function m, and then clearing fractions yields
(x2-3x-11) = (2x-3)(x-2) or 0 = x2 - 4x -5;
by factoring we have 0 = (x-5)(x+1) and we see that x = 5 or x = -1.
This gives us two points "P": (-1,4) and (5,10).