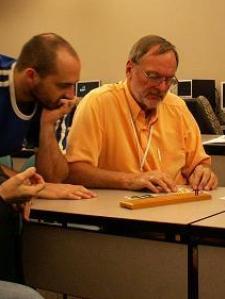 Kenneth S. answered • 04/26/17
Expert Help in Algebra/Trig/(Pre)calculus to Guarantee Success in 2018
from Merriam Webster's website on appositive" In "my friend the doctor," the word "doctor" is an appositive.
In this instance supplied by Stephanie, the construction is different, in that the readability is harmed by the comma; I believe that the comma inserted between sister and Sandy is counterproductive.
"sister Sandy" flows smoothly, and since there is no further phrase following, that pause-for-comma, when reading aloud, is undesirable.
on the other hand, if there were more to the sentence, such as "...my sister, Sandy, who just turned four years of age." THEN that would be a typical instance of apposition.
"Sister Emily passed the collection plate." ⇐Not appositive