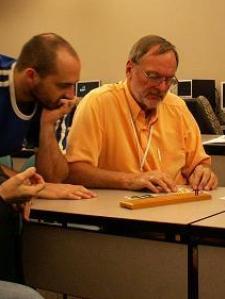 Kenneth S. answered • 03/21/17
Expert Help in Algebra/Trig/(Pre)calculus to Guarantee Success in 2018
It is unusual that a student would be assigned a problem dealing with asymptotes, intercepts, doman without there having been lectures on this topic. In most textbooks, there are copious examples in this topic (chapter).
First, I should like to point out that your probably intend that both factors (x-3) and (x+5) appear in the denominator.
Then you should have enclosed that pair of factors within square brackets in order that PEMDAS will be satisfied. (As written, you'll divide by (x-3) but then MULTIPLY by (x+5) which is a very different outcome than you intend.
To begin,let's call this expression y = ... and now observe that x=-5 and x=3 cannot be in the domain because that would be division by zero.
There are vertical asymptotes where any factor of the denominator would cause division by zero.
(One exception, not evident here, is that if such a factor were to disappear due to cancellation of an identical factor in the numerator, then the graph has a hole.)
To find x intercepts, set y = 0. to find the y-intercept, set x=0.