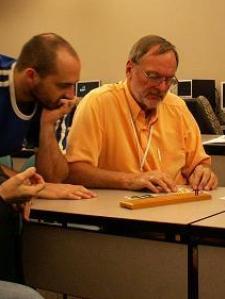 Kenneth S. answered • 02/04/17
Expert Help in Algebra/Trig/(Pre)calculus to Guarantee Success in 2018
In the shell method, the dV = 2(pi)xy dx where x is the radius, y is the height and dx is the thickness of a shell (laminate).
The x values vary from 0 to ½•√pi on the definite integral which has integrand 2(pi)x cos (x2), to get V from integration (accumulation) of infinitely many laminates (shells) of thickness dx.
Since 2pi can be factored out in front of the integral symbol, the basic integrand is x cos x2, and the antiderivative is simply ½ sin x2. Therefore the answer is pi [sin (pi/4) - sin 0] = pi/√2.
I trust you will check this out carefully, step by step, on paper, and find that you agree. If there are any questions, don't hesitate to comment.